Molding processing
Ⅰ. Pre-drying
Be certain to pre-dry before using the resin in an injection-molding process. Dry for 3-5 hours at 120°C-130°C (actual temperature) using a hot-air dryer. Drying below 100°C will not obtain the desired effect, regardless of drying time.
Above 150°C, the pellets may become discolored, so avoid higher temperatures.
To avoid water absorption while the pellets are stored in the hopper, the use of a hopper dryer is recommended.
Figure 25 shows the drying curve for TORAYCON™ non-reinforced grade (1401X06). Figure 26 shows the water-absorption speed curve of dry 1401X06 pellets. Using pellets with high water content will make it difficult to obtain adequate properties in a molded product. Pellets with water content no higher than 0.02% are preferred for injection-molding processes.
Figure 25: Hot-air blow-drying curve for 1401X06

Figure 26: Water-absorption curve of 1401X06
Ⅱ. Molding conditions
A resin temperature of 230°C-260°C is appropriate for injection-molding TORAYCON™ resin.
Use caution in setting the temperature—a resin temperature exceeding 280°C will lead to thermal degradation and result in a more brittle molded product.
TORAYCON™ has a low glass transition temperature of only 27°C-30°C, and crystallization in TORAYCON™ progresses rapidly. So a mold temperature of even 30°C is sufficient to obtain the desired molded product having uniform crystallization. However, decide the optimal mold temperature taking into account the desired appearance glossiness, product dimensions and other factors. Using a mold temperature around 80°C for the glass-fiber reinforced grade (1101G-30) obtains an attractive external appearance.
Ⅲ. Stopping molding operations or switching resins
When stopping or shutting down a molding operation, be sure to eject all resin remaining in the cylinder before lowering the cylinder temperature.
High-density polyethylene, polypropylene or polystyrene can be used as a cleaning resin for switching resin types.
Ⅳ. Mold shrinkage
The mold shrinkage rates of TORAYCON™ PBT resin are shown in Figures 27, 28 and 29.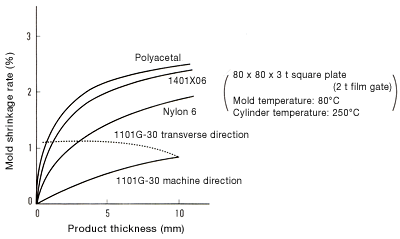 Figure 27: Relationship between product thickness and mold shrinkage rate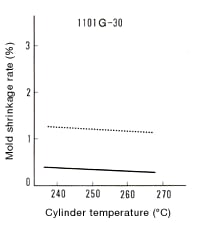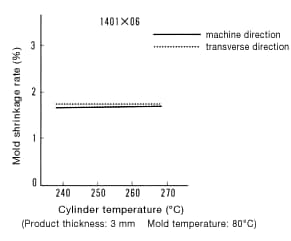 Figure 28: Relationship between cylinder temperature and mold shrinkage rate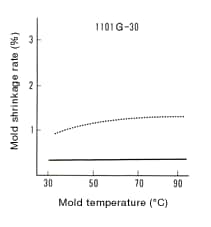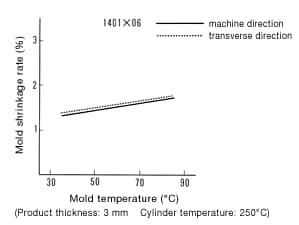 Figure 29: Relationship between mold temperature and mold shrinkage rate
The mold shrinkage value for the non-reinforced grade (1401X06) is higher than that of nylon 6 and slightly lower than that of polyacetal resin. Similar to other fiber-reinforced resins, the glass-fiber reinforced grade (1101G-30) is anisotropic as a result of the orientation of the glass fibers and therefore has a different mold shrinkage rate in the machine direction than in the transverse direction. Due to the anisotropy, the molded thin parts may warp. So, it is preferable to design the mold in a manner that minimizes orientation and ensures the glass fibers are distributed uniformly. Product design should contemplate these factors as well.
Ⅴ. Mold temperature
The appropriate mold design can maximize the excellent properties TORAYCON™ possesses. In particular, consider the following points.
Materials
Standard mold materials will suffice. For the glass-fiber reinforced grade, coat the mold surface to give the product an attractive surface gloss and extend the life of the mold.
Shrinkage
We discussed mold shrinkage in the previous section. Use the information provided in Figures 27-29 as a starting point. Also consider other factors that influence shrinkage, such as product shape, gate shape and molding conditions. Perform trial shots and consider modifications to the molding conditions or mold design itself to obtain the desired dimensions.
Runners
Ordinary circular runners are optimal. Decide the runner diameter based on the product size, number of cavities and other factors. Start small and adjust as needed based on trial shot results.
Gates
TORAYCON™ exhibits superb flowability, which makes it possible to use a variety of different gates. Decide the gate size based on the product shape and thickness, but generally speaking using thicker gates obtains favorable results with the glass-fiber reinforced grade.
Gas venting
Insufficient gas venting within the cavity will lead to burn marks on the molded product. If burn marks appear during trial shots, add gas vent holes sized about 0.02 mm thick and 0.5 to 9.0 mm wide.
Ⅵ. Recycling material
TORAYCON™ can be recycled with certain restrictions. Recycle only sprues, runners or molding process defects such as short shots. Consider end user requirements when deciding recycled-material content and recycling repetition limits. When using recycled material, pre-dry before molding as set forth above.